EDIT MAIN
Welcome to the Mellette Elementary Website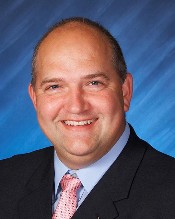 John Decker, Principal
john.decker@k12.sd.us
Mellette Elementary has a long and proud tradition of service to the Watertown community since 1908. The staff has provided a tradition of excellence in educating children for over 100 years. Through those years, many changes have taken place to the building and to the staff. However, the standards by which children are educated have been maintained and will continue to be for years to come.
Mellette School was built in 1908 at a cost of $12,166. It was built on one of the highest hills in Watertown, known as Prospect Hill, and was named after Arthur C. Mellette. He was the last Governor of Dakota Territory and the first Governor of South Dakota. His leadership brought order and integrity to our state schools. Governor Mellette was a graduate of the Law Department of Indiana State University in 1866. He practiced law in Indiana and also served as a County Superintendent of Schools. He was instrumental in creating a sound, permanent school fund program and was considered the first authority in the country on school law.
An addition was added on in 1955, which is currently the Structured Learning Center classroom. A dedication was held on December 14, 1956. Then principal, Etta Greenfield shared that indirect natural lighting was provided, upgrades to faucets and bathrooms, electrical signal bells in all new rooms, new semi-circular gang wash fountain in the boy's bathroom, large planters were installed as part of the cabinetry in the back of each classroom, and heating in each room is thermostatically controlled. These are a few of the upgrades.
About Mellette Elementary
In 1995, Mellette Elementary School went through a second renovotion. The two story building was renovated to provide classrooms at ground level. Classrooms extended the perimeter of the school with the library being accessible within the middle of the building. A multi-purpose room was also constructed to serve as a lunchroom and for special programs.
The Fall of 2008 represented the Centennial Celebration of our school. The school hosted a program on September 18 to celebrate. Mayor Paul Fox read a city and state proclamation from Governor Michael Rounds, stating that September 18th, 2008 had been declared "Mellette Elementary School Day" in the city and state of South Dakota. The program also provided John Timm, from Sioux Falls, and Gerry Likness, from Watertown, who portrayed Governor Arthur C. Mellette and Maggie Mellette. At the end of the program, students released 100 balloons to commemorate the day.
Through the years, the success of our school has relied upon parent involvement. The educational process is a partnership between parents and the school. Parental involvement influences the child's academic success and develops positive attitudes towards school. I encourage you to become involved. Please feel free to call or stop by the office anytime if you have any questions or concerns.
Forever Learning,
John J. Decker, Principal
Mellette Elementary School
619 2nd St. NW
Watertown, SD 57201
605-882-6385
Fax: 605-882-6382