EDIT MAIN
Bookflix
Parents Click Here for BookFlix

Welcome to the Roosevelt Elementary Website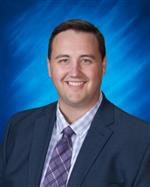 Tyler Bolstad, Principal
Tyler.Bolstad@k12.sd.us
It takes a community to raise our children. Roosevelt is a warm and caring neighborhood school located in the 'Heart of Watertown'. We are concerned about giving our 300 Rough Riders a strong foundation in the basic subjects while still finding the time for activities that encourage special interests and talents.
Based from the Watertown School District's mission statement "Enabling students to succeed in an ever-changing world", the mission of our school is:
To provide a safe environment where high expectations, both academic and social, and respect for others are consistently communicated and role-modeled to our students and to develop an atmosphere that nurtures success for all.
To accomplish this mission, it takes the Roosevelt staff, students, parents, and community to be involved in the education process. Research supports the fact that students whose parents are actively involved in their child's school activities are more successful in learning and have positive attitudes towards school.
You are encouraged to visit our school. I believe you will find our Roosevelt community alive and well. On behalf of all the Rough Riders, I extend a warm and friendly 'WELCOME!'.
Roosevelt Core Beliefs
We Believe:
Students
**All students can learn.
**Students need to take ownership of their learning and responsibility for their work.
**Students enter the learning environment with different ability levels and experiences.
**Students need to be loved, feel safe and be part of community.
**Students need to feel a sense of accomplishment.
**Students need social skills to be successful in their personal and work world.
**Students will treat others with dignity and respect.
Staff
**Staff is responsible for providing the opportunity for all students to learn and experience accomplishment.
**Staff will work with students to provide a safe and caring environment.
**Staff will be a positive role model.
**Staff will be prepared for and complete their duties.
**Staff will treat others with dignity and respect.
**Staff input and contributions are valued and necessary.
Parent and Community
**Parents are responsible for supporting, monitoring and encouraging learning.
**Community involvement is important in supporting learning opportunities for students (HOSTS, J.A., BISCO, GIFT, Kidscope).
**Mentoring opportunities are encouraged for our students.
**Parents/community should be a positive role model for students.
**Communication between school, community and parents is important.
Roosevelt Elementary School
412 Second St SE
Watertown, SD 57201
605-882-6360
Fax: 605-882-6361